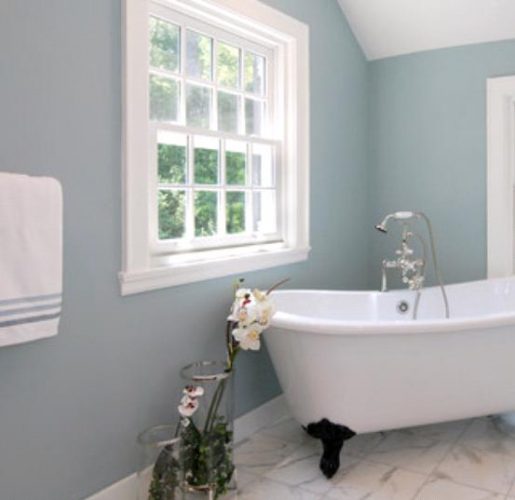 Adding new color to your bathroom can add new life into your home and it can enhance your existing colors that are already in place. If you are thinking about painting your bathroom, here are a few of the top colors.
-A soft taupe is a really nice color that is neutral. It blends in well with many other colors, such as a soft green or a soft blue. This shade of paint can be enhanced with natural lighting and accessories, such as a shower curtain.
-A bathroom with ash gray walls also looks amazing. You can get a marble counter-top installed, then add dark hardwood floors with thick white trim, plus you can also get window treatments that will be the perfect addition for this stylish bathroom.
-Parchment is a color that is a very creamy buttery color. It is on the lighter side, so this color looks amazing with bronze accents and it also is a terrific shade if you are into a vintage look.
-Sea foam green is a terrific color that is almost like taking a trip to the spa. Paired with white paint as an accent, you will be able to really make your bathroom a relaxing place.
-Clean white is a great way to go, if you are into re-purposed furnishings and accessories. Going bright white means your bathroom is going to look clean and you also have the options to dress it up with a few wicker baskets and plants.
-Sky blue paint will make your bathroom seem like a tranquil place to relax. Go with white counter-tops and do either a hardwood floor or tile. Your bathroom will be well put together, yet it will also have that tranquility that most people desire.
-Powdery pink is a great color if you have children that are girls. This is a delicate color that looks really great with white and gray accents. If you would like to have custom painting done, it's recommended you get an interior house painter in NJ that will customize a job like this. A top house painter can help you choose the perfect paint color as well as the perfect style for your bathroom. Hiring a residential house painter is a good investment for you to make in your home.
-Charcoal is a great look in a bathroom if you are going for a more natural wood look. You really can do some earthy accessories and colors with this type of look.
Bathroom Preparation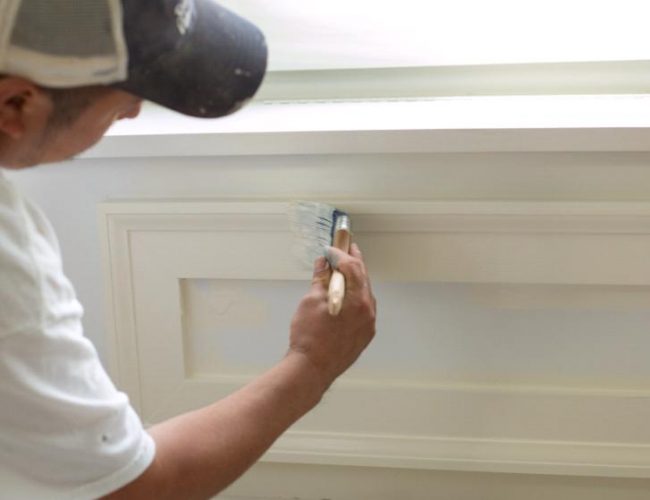 Before you decide to paint your bathroom, you also should take into consideration the size of your bathroom and whether or not you plan on doing any other remodeling. That is why hiring a professional for your painting is going to be crucial. It's a good idea to make a list of all the items that you need to think about and factor into your paint choice. You will want to be sure that the paint is going to match your accessories that you already have and you also want to think about simple things such as your towels and bathroom mats. Also, you need to be sure that all of the areas around your tub or shower are secure and do not have any type of water damage. You do not want to get into a situation where you are painting around your tub and realize that you may have a bit of water damage. It is better to be 100% sure of all of these issues before hand.
Cost of Painting a Bathroom
There are a few different things to consider when you are about to paint your bathroom. First you need to think about if you have any water damage. Obviously, it will need to be fixed. If you need to hire a professional, factor in a few hundred dollars for new drywall and finish. Then, you will need to price out how many gallons of paint are going to be required to paint the bathroom. Always make sure that you have more paint than too little. Also, you will need to or three coats of paint instead of one. If you plan on painting your ceiling, be sure to not leave that out of your paint estimate. Then, you will need to make sure that you have all of the supplies for cleanup, unless your paint professional plans on doing the set up, the painting, and the cleanup. Getting estimates is how you will know what everything will cost. However, it is a good idea to factor in a ballpark figure of a few thousand dollars give or take depending on what your interior house painter plans on doing.
Painting a bathroom is a fairly easy process once you have figured out your color and you have hired the right professional to do the job. After that, it is going to be a matter of picking out all of your new accessories and getting everything placed in the right location.