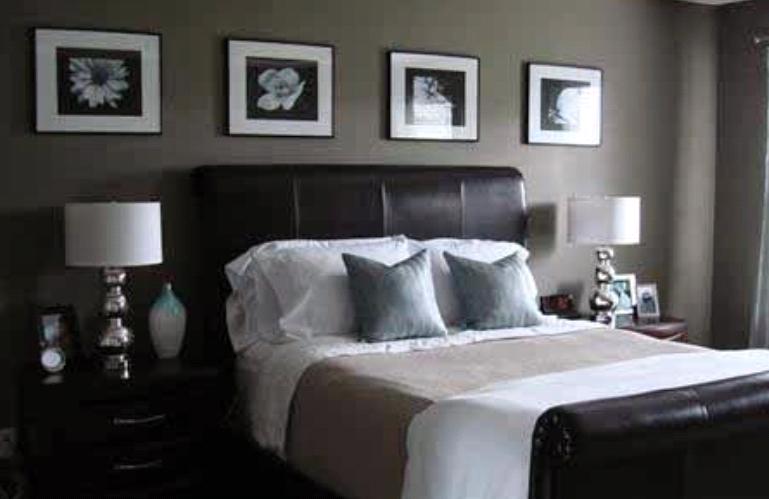 The ideal colors for a men's bedroom are going to be modern or contemporary. A project such as painting a bedroom for a male is much easier than it looks. The main thing that needs to be taken into consideration is going to be the placement of all of the furnishings. Most of the time, the size of a bed is going to be a king, therefore it is going to need to be against a wall that is fairly large. Before you begin to paint, it's best that you place the bed where it is going to be located in the room and open all of the window blinds or shading, so that you can see what type of lighting is going to be available.

Preparation
The easiest way to determine the color that is going to work best for bedroom for a man, is to get a good look at the size of the room and the layout. You want to check out the lighting and you also want to see what additional accessories or furniture is going to be needed. The reason for this: it will help you figure out if you are going to use more than one color. Also, you may even end up doing something different on a large space that could end up being a mural or using a different type of wall texture.
Determining the Color
Now, here comes the fun part. Most of the time for a men's bedroom, you are going to run into colors that are darker and in some cases bolder. This does not mean the bedroom is going to be like a cave, but it can end up being darker, but with accessories and lighting – the room will be really well put together. Here are a few ideas for the newest trends for bedroom paint colors for a men's bedroom.
Going with a dark blue or a black on the walls is going to be one of the most popular colors.  A bedroom like this can have a crisp white ceiling with white crown molding around the window and the door, plus the flooring can be anything from hardwood floors to a nice lighter shade of carpet with an area rug.  To add some brightness to the room, a large white down comforter can be used for bedding.  The end tables for a bedroom like this can be white or a lighter shade of wood to enhance the beauty of the walls.  This paint color can work with large bedrooms or for smaller ones. Plus, some vibrant and colorful artwork can make the entire color scheme go together well.
For a larger bedroom or even a master bathroom, gray's and blue's work really well. You can go either lighter or darker, but it is very important to factor in the natural lighting that is coming from a window. Before you decide to choose either of these colors, it is recommended that you get test strips of the paint colors that you like and find out how well they look with the natural lighting. Sometimes lighting can affect how a blue or a gray paint color looks. You want to be sure that the color is soothing and it will look good with all types of lighting on. Also, this is an opportunity to choose an additional color for trim if that is something you would like to do.
A dark brown or a tan shade is also another wonderful and trendy color for painting a men's bedroom. With these colors, you are going to have many different options when it comes to a king-size bed frame and all of the furnishings. You can add artwork and you also can add mirrors, plus you can have customized window treatments done if that fits your budget. The dark brown is rustic and it also gives an earthy twist for a unique style. Be sure to have an interior house painter in New Jersey help with this project, because you want to be sure that the application of your paint is done correctly.
Always remember to take your time choosing these paint colors, because you want to make sure you do it right the first time. Having a professional painter help with this project is going to be highly recommended. If you have any questions about faux painting ideas, your professional painter will be able to help you and let you know which looks are going to be the best for what you are seeking.  Your project should have an end result of a smooth-looking stylish new bedroom.