Ceilings are often one of the most overlooked areas of a home when it comes to painting projects. While many homes have ceilings that are painted lighter colors, such as traditional whites or off-whites, there are many other home owners who are opting to participate in a bold new trend for 2016. Make a drastic statement today with a boldly painted ceiling. Painting ceilings are a trendy alternative to bland white ceilings of the past. It is no longer fax-paus to paint ceilings. While ceilings have typically been left untouched by colors, patterns and texture, this is no longer the case as more and more people are opt to paint their home's ceilings for dramatic impact and visual pleasure. A painted ceiling can liven up a home in an instant. What's more is that painted ceilings can add an element of surprise to any room. Thinking of completing a ceiling paint job? Read on for a few insightful tips regarding how to paint ceilings. An expertly painted ceiling can give the room a new look and can even add effects such as making the room look smaller or bigger. For help with ceiling painting contact a top interior house painter in NJ. A New Jersey house painter can assist you with choosing the best color of paint as well as type of paint.
The Basics
The first step in painting a ceiling is choosing the best type of paint for the job. There are various types of paints on the market, these range from flat to eggshell to satin to semi-gloss and glossy. Regarding ceilings, flat paint is the most popular finish alternative because it does not reflect light. Flat paint also leaves a smooth surface that is perfect for ceilings.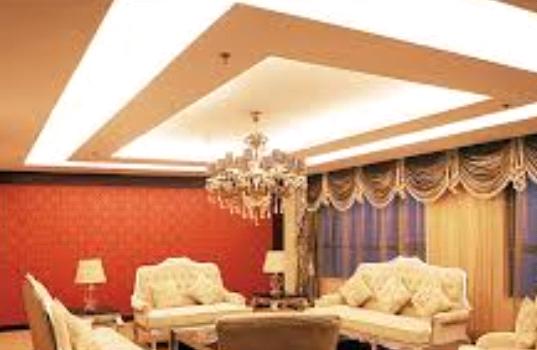 A premium quality paint should be chosen for ceiling projects. High quality paints are beneficial because the coating will last a long time. These paints can even come specially formulated, made with ingredients that are fade and chip resistant. All in all, a premium quality paint represents money well spent because of its longevity.
Next, prepare the ceiling by removing light fixtures so they are not damaged by the paint. Then, remember to prime the ceiling prior to applying the first coat of color. Primer will preserve the base of the surface and allow for an even first coating of colored paint. It is very important to prime the ceiling first, especially if the ceiling has never been painted before. The importance of priming and preparation cannot be understated. For a do-it-yourself home owner, primer allows the ceiling to be painted like a pro. Top off this process by doing two coats of paint for a uniform coating.
The Benefits
Updated Effect. A painted ceiling can give an updated and modern feel to a home's interior. What's more is that any ceiling can be painted for immediate visual impact. One popular painted ceiling trend is monochromatic patterns. For instance, stripes in navy and white can be painted on office ceilings.
Can Make a Room Look Larger. Lighter ceiling colors with darker colored walls make rooms appear much larger than what they really are. These ceilings add depth and balance to the room.
Can Make a Room Appear Smaller. A room can be made to feel smaller by painting the ceiling a deeper hue and then leaving the walls in lighter colors. A darker colored ceiling will also add instant warmth to the room and will make ceilings appear lower.
Patterns and other Embellishments. It is not uncommon for many homeowners to go all out with the design of their ceilings. This can include painted on stars and galaxies for children's bedrooms to more sophisticated patterns for a mature feel. Stencil designs are also popular for ceilings. There are even some home owners who have entire murals painted on their ceilings. Still there are others who experiment with glazes for an entirely different effect.
All in all, homeowners spend a considerable amount of time choosing paint for wall colors. Why not take it up a notch and paint a ceiling? Painting the ceiling draws the eyes upwards and the right color or pattern can give the senses a delight and can create a great focal point for any room. Unique patterns can even serve as conversation pieces. There is no limit to where ceiling paint design can go. From flat to vaulted ceilings, no ceiling is off limits when it comes to this new trend. Contact an interior house painter in NJ who can provide direction and details regarding the best types of paint and color combinations for an expertly finished ceiling today.