Homeowners can change the entire look of their kitchen by painting the room in a traditional paint color. Kitchens by their very nature, are bright, cheerful gathering spaces and their wall colors should reflect this purpose. Color psychology studies have shown that color impacts emotions and modes. This means that a kitchen's wall color can impact how the homeowner feels while they are cooking, eating or spending time with family. Who can enjoy a delicious meal or family gathering when the color and mood of the room is somber? Read on to learn more about common traditional kitchen paint colors and how the right color can facilitate warmth and togetherness.
The Benefits of White Paint
The most popular traditional kitchen color is white. The color white is often associated with sterility and cleanliness so there's no wonder why it is a kitchen favorite. A great benefit of white paint is its ability to emphasize other features of the kitchen including high end appliances, cabinetry, lighting and even art. The crispness of white paint creates a contrast for these often colorful items.
White walls create a great backdrop for these kitchen features that would otherwise blend in with colored kitchen walls.
The Right Colors for Larger Kitchens
Choosing the right paint color for larger kitchens is a key design element for homeowners who want to optimize their kitchen space. Larger kitchens benefit greatly from warmer tones which foster a cozier ambiance. Warm yellows and daring reds can add a positive energy to the space. These colors are even known to stimulate the appetite! Most kitchens are full of bland colors (brown cabinets, black pots and pans, and dark appliances). This is why it's so important to contribute to the cohesiveness of the space by pulling everything together with an unexpected, but welcoming wall color. Other traditional colors that work well for large kitchen spaces include sage and pistachio greens, stunning corals and luxurious coppers which help in pulling all of the elements of the room together. Natural stone colors are also excellent choices for larger kitchens. For additional advice on painting larger kitchens, consult with an NJ residential painter who can assist with the next interior painting project.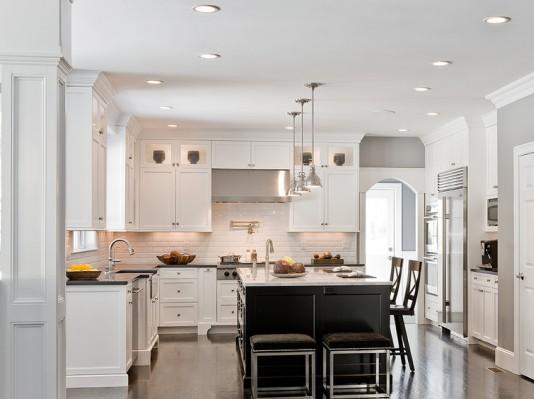 The Right Colors for Smaller Kitchens
Maximize the space of a smaller kitchen by opting for paint colors in lighter shades. Smaller kitchens can become roomier and airier if painted the right traditional color. These paler colors and pastels which add depth to the smaller space. Lighter paint colors such as beige, yellows and blues will not overpower small, cramped spaces. Darker colors, on the other hand, result in rooms that appear less spacious, even if they are not and these darker colors tend to absorb more light. A common misconception is that paler shades must be feminine. On the contrary, these lighter hues can be more masculine in nature. For charismatic colors that add dimension to smaller kitchen spaces try lighter shades of grays, greens and blues. These traditional colors are great for kitchens because they bring new life into smaller spaces. The type of paint used is also important. Glossier paint finishes work much better than flat types of paints as these shinier paints reflect more light, making the room feel brighter.
Accent Walls
Accent walls are a wonderful option for homeowners who do not want to commit to a new color throughout their entire kitchen. It is acceptable to feature accent walls, which provide great focal points, within kitchens. These walls can provide an accent for seating spaces or can even take the place of tile backsplashes. Accent walls will prevent any one paint color from dominating the room and will allow for other items within the room to stand out. For added impact, adjoining room walls can be painted in the complementary color to increase flow and to allow the kitchen to blend in with the rest of the home despite the one colorful accent wall.
For home owners who are looking for a new way to revive their kitchen, consider a new coat of paint in a traditional color. Traditional paint colors for kitchens allow for variety in decorating styles. These stylish colors enhance entertaining and improve mood during dining. Prior to picking up a paint brush consult with a NJ residential painter for a successful kitchen paint job today.