All sellers want someone to buy their homes as quickly as possible and at full asking price. However, some homes sell much faster than others. Homeowners who are able to place their homes on the market and then receive a quick offer have mastered the preparation and planning phases of selling a home. By taking a few proactive steps, any homeowner can do the same. It is possible for any homeowner to carefully prepare their house for sale without spending a ton of money on prep work. To learn more about getting a home ready for sale, consult with an interior designer as well as a top house painter for expert opinion on this process. The following are a few helpful suggestions on how to make a house presentable and marketable enough to sell.
Preparation
The first step in preparing a home for sale is to speak to a real estate agent who can provide direction on which areas of the home to concentrate on first. Such areas could include taking care of maintenance issues, making noticeable repairs, performing upgrades or taking simple steps such as planting flowers in the front yard. Reducing clutter is usually the first task to consider. While homeowners will enjoy and love the items they have accumulated over the years, their personal style may not match that of a new homebuyer's. This is why it is so important to clear clutter and reduce the number of items in each room. This can include removing knickknacks, personal photos, unnecessary furniture and any other extra decorations that have accumulated in the room, making it appear busy and taking away from the visual appeal of space.
A Fresh Coat of Paint
Paint color also plays a huge role in the ability of a home to sell. A new coat of paint can provide a very high return on investment. After having spent many years living in a home, many homeowners have painted their interiors various colors to match their personalities and personal style. Odd or brightly colored paints can be a distraction to buyers. Remember, the buyer should be focusing on the entire space and not just the paint colors on the wall. A good rule of thumb is to choose colors such as whites and neutrals, colors that allow the buyer to visualize what their furnishings would look like in the home. It is also important to realize that discerning buyers pay attention to the quality of the walls within a home. So, unsightly marks and blemishes on the walls such as fingerprints and dirt should be cleared with a fresh coat of paint. A fresh coat of paint can leave a positive impression of the home, making the rooms look fresh, clean and well-taken care of. It is also very important to paint important spaces such as living rooms, kitchens, bedrooms and entry ways. A top house painter can quickly update the walls with a new paint color for a refreshing look.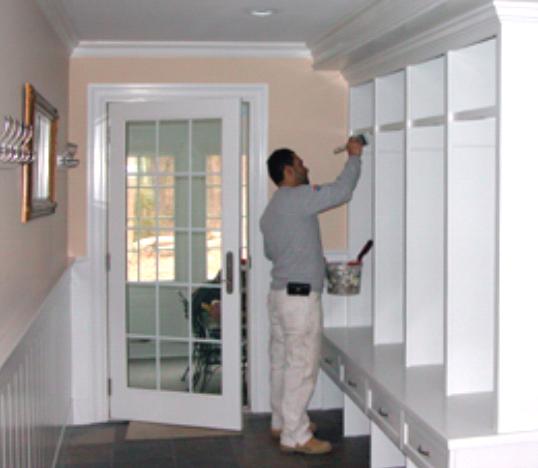 Staging
Home staging is another great way to prepare the home for a quick sale. Staging is the process of removing the homeowner's personality from the décor and replacing the furnishings with neutral items that appeal to most home buyers. This can include replacing furniture, removing all personal items to make the space feel warm and inviting. In general, staging can help to highlight the best features of the home, making it appear bigger and also leaving a positive impression with the buyer. In short, the goal of staging is to make buyers feel at home within the space.
Cleaning
It is also important to give the home a good cleaning as a part of the preparation for the sale process. Clean the home from top to bottom to achieve the best response from buyers. A clean home gives the perception that the house has been well-kept and it demonstrates to the buyer that the seller really cares about the home.
Make a good first impression by sprucing up a home that will be placed on the market for sale. Prospective buyers can make a decision quickly if the home is presented in the best manner. This should include removing clutter, painting the home in acceptable colors, staging where necessary and ensuring the home is immaculately cleaned. Many homeowners can obtain their maximum selling price by taking these necessary steps. For additional assistance with preparing a home for sale, contact a top house painter today who is knowledgeable about the steps needed to spruce up a home's interior.