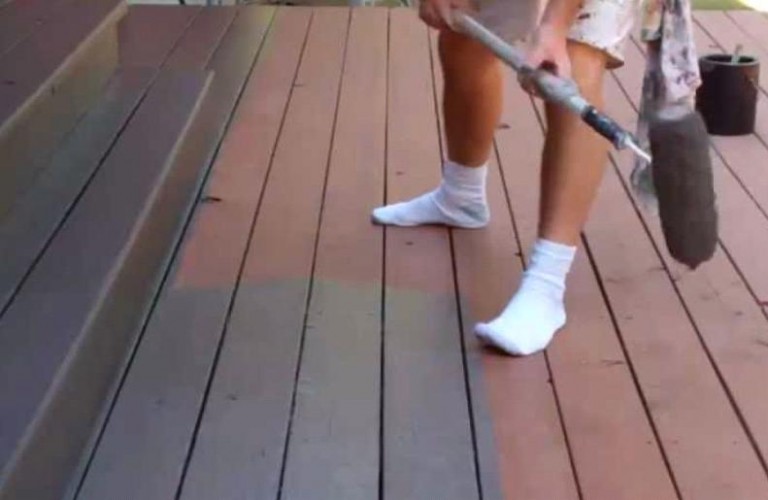 A deck paint job never lasts quite as long as we would like it to. Exposure to the elements, as well as heavy usage, can wear down a deck in only a few short years. When it's time to start planning for your next paint job, it's important to research the best way to go about it. Painting your deck can seem like a daunting process, but once you have a plan for the best way to do it, it won't seem nearly as bad. Make sure to keep in mind that you will need to adequately prepare your deck to be painted in order to see the best results.

Preparation
The first step in preparing your deck for painting is cleaning it. You need to make sure that the surface is completely clean and that any kind of debris is cleared off. Even things that may not seem significant, like pollen or small leaves, can greatly impact the painting process, so be sure to clear the deck completely. This can be a good time to spray the deck with a cleaner, or to hire a home painting professional to do this step for you. Once you've sprayed the deck with the cleaner, leave it on for at least 20 minutes so that it can really sink in. After that, scrub the entire area down, rinse it, and let it dry completely before proceeding on to the next phase of the preparation process.
Next, scrape off any peeling paint from the deck. This is an extremely important step towards preventing imperfections. Also be sure to remove any loose nails or loose pieces of wood, as they can also impact the process. Fill any other holes with high-quality putty. Also remember to apply caulk at all joints in the deck and sand any rough patches.
The final step in preparing for painting is applying plastic sheeting to your home to prevent paint from getting on it. If you have plants or shrubs touching the deck, you will want to protect them with plastic sheeting as well.
Once these steps are complete, your deck is ready to be painted.
Painting
When deciding on which day to paint your deck, it is important to consider the weather and temperature. Most home painting experts recommend painting only when humidity is less than 80% and when the temperature is between 40-90 degrees Fahrenheit. Otherwise, the temperature may impact the drying process. Also, avoid painting the deck between noon and 3 PM. These are the hours where your house will be in direct sunlight, which can hamper the process.
You have already protected your home and nearby plants from the paint, but you also will need to protect yourself. Wear eye goggles, a face mask, and old clothes while painting for full protection.
The recommended method for painting is using a paint sprayer. It is extremely helpful to have a friend with you during this process, who can standby with a paint roller in hand to correct any imperfections as they happen. It can also be helpful if they have a smaller paint brush in addition to the roller, for smaller fixes. Keep in mind that you should paint in the direction of the grain of wood for best results. It's important to be thorough during this part of the process, as you don't want to miss any small sections of your deck. This is another reason why it can be helpful to have a friend nearby to help you. It is always easy to miss something if you're alone and are very focused on small parts of the deck at a time.
Afterwards
Top painting professionals in Essex County recommend using a finish for your deck to ensure a long-lasting paint job. If you do choose to use a finish, be sure to choose one that is oil-based. Do not walk on the newly-painted deck for at least four hours to allow it enough time to dry. After that, test a small portion to make sure that it is safely dry. It is at this point that you can remove the plastic sheeting from your home and plants. At this point, the only thing left to do is congratulate yourself- you have successfully painted your deck!