NJ Top-Rated Interior Painters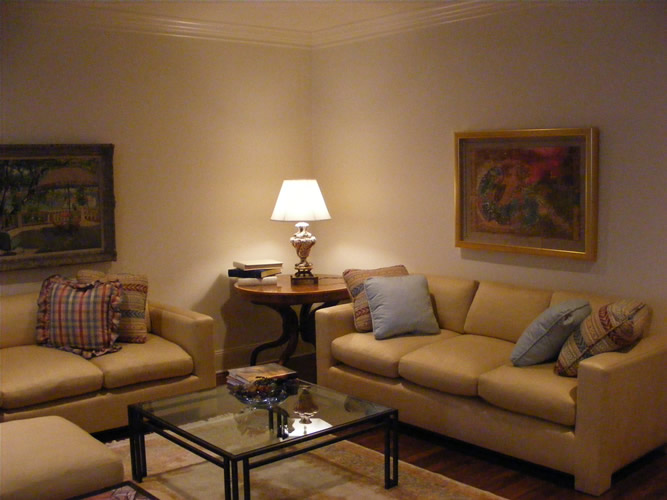 The home tends to be the pride of a family especially in a case where a lot was invested into acquiring it.
Then comes the need to spruce it up to the taste of the family, making some major modifications and adjustments. One of such modifications is interior home painting.
Worry Free Painting is one of the best professional home painters in New Jersey and one of the very few to offer 5 years warranty on labor and material!
Home Interior painting is an easy way of changing the overall looks of your home, by adding a unique character to the walls. Interestingly, this is an inexpensive way of bringing out the beauty in your home.
Call today 201-666-3712 for a free Quote.
Interior Painting Preparation
Before commencing painting, we go through a very detailed preparation to get the desired quality job.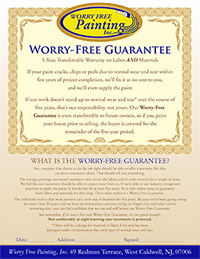 All holes and imperfections are filled with spackle. After it dries, we smoothen the patches with abrasive materials. For cracks, we widen them slightly before applying spackle, or else they will not sit perfectly.
We scrape away any old paint hanging loose on the wall, we make sure the area is smooth. We also clean the walls, dusting off any dirt.
We use paintable caulk to fill gaps in preparation for paint. We use putty for wood to fill any imperfections before sand smoothing.
We priming the walls using top quality paint products, as this hides dark stains, helping the paint job last longer. When painting woodwork that is exposed, this is compulsory. There are lots of primers that adhere to glossy surfaces allowing to skip sandy surfaces.
We use only high quality paint material, which is why we can guarantee our labor and material.
Choosing The Right Paint for Home Painting
There are several types and brands of paints that can be used for residential interior painting. It is often best to consult an expert who can help you determine which is the best brand and finish for your walls. Some tips on selecting paint are as follows:
Decide which finish is appropriate for your interior based on purpose. Semi-gloss is ideal for kitchens and bathrooms. Flat finishes are ideal for other rooms. Although gloss finish is ideal, flat will hide most imperfections and withstand most cleanings.
Deciding between oil and latex paint could be a problem. The choice depends on the area to be painted. For walls, latex (Water Based) is recommended as it dries faster with less fumes. For areas that would always be in contact with human fingers I recommend the use of oil paints as this makes it easier to clean.
The Paint Color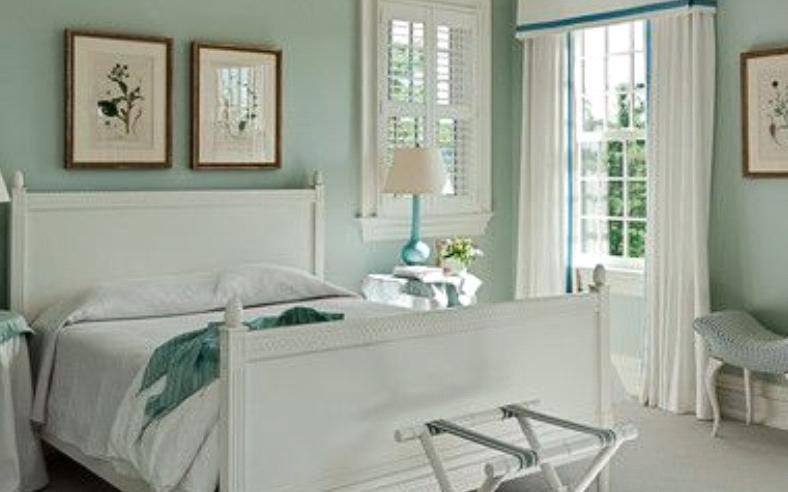 Choosing a color is more of an art as there is no rule of thumb. However, here are some pointers that could act as a guide.
Do not request for a color and then ask for a lighter version or half strength. Some people do this and it is not recommended. If you feel a color is too dark, request a lighter color.
There is no rule that says the ceiling must be white, it can be any color, preferably a lighter color. If the wall color is light enough, the same color can be used for the wall.
In choosing paint colors, go for colors that would blend with the overall decorations of the home.
Paint companies offer different samples. These can be tried out on the walls to have a view of how it turns out.
If you choose to paint a room yourself, check our wall painting DIY Tips.