NJ Super Service Award, A+ Rated Exterior Home Painters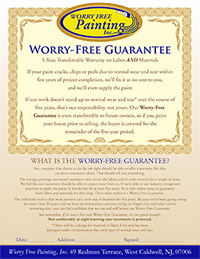 Professional exterior home painters, 5 years warranty on material and labor!!!
Call 201-666-3712 for a free estimate and ask for our spring special $300 Off on home exterior painting.
Considerations to Be Made in Exterior Home Painting
Quality Paint – We use only high quality paint that would last years. Low quality paint fade faster and cost more in the long run.
Paint Color – We have color experts and we select color theme that blends with the overall look of the environment, so your house is not isolated.
Light – Color, hue and radiance of the exterior may vary with different levels of sunlight. We color test before we do the job to give the customer an idea of how different colors would radiate at different times of the day.
Choice of Colors – We provide professional help and consulting for color selection.
Exterior Painting Process
Surface Preparation: – We prepare the surface before applying paint. It includes power washing to remove dirt
Drop Cloth – We place drop cloth around the areas to be painted to absorb paint drops, preventing spills.
Caulking – We use sealer for cracks and expansions around doors and window frames. Caulking also prevents moisture from getting into these cracks. We use only quality paintable caulk.
Putty – We use filler material in older homes for cracks between joints, and to seal from moisture between glass and wood.
Scraping – Used to remove any loose paint from previous coatings, critical for the paint job durability.
Sanding – Optional and used to round edges of scraped areas.
Priming – Used to seal porous surfaces, providing a smooth surface for the application of paint. We use high quality primers to act as quality surface for the paint.
Finished Coating – Application of the final paint finish. We use professional tools to get the perfect finish
Cleanup – At the end of the job we clean up the environment removing materials like the drop cloth and empty paint containers. We ensure a tidy environment after the work is done.
For free estimate call Worry Free Painting today! 201-666-3712