Exterior Home Painter Caldwell NJ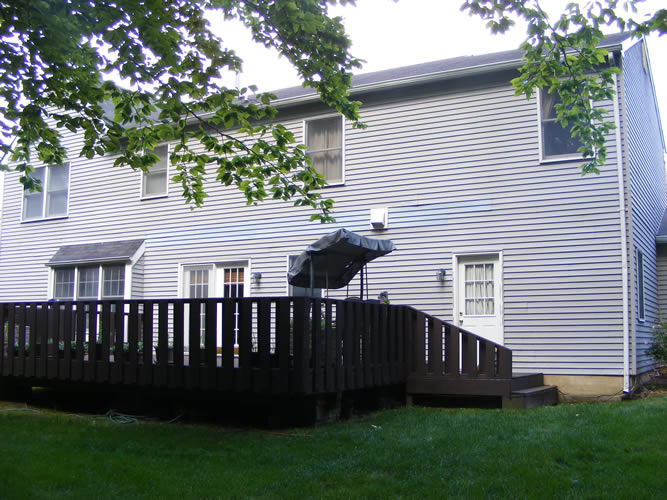 Are you a home owner in Caldwell NJ, are you looking for a local exterior painters? We at Worry Free Painting have over 20 years of experience which led us to create a worry-free process for painting homes in Caldwell New Jersey. Contact us for any questions about interior and exterior painting in Caldwell NJ. We employ professional home painter crews and supervisors which are all highly trained and credentialed in exterior and interior painting. We remove garbage and debris daily and leave wet "touch up" paint clearly marked as to where it was applied.
If you are a home owner in Essex County, here is some more information that you may want to consider when painting house exterior.
Choosing the Paint and Color
Consult an expert home painter to determine the best brand and finish of paints for your home. Discover the adventure of color. Create unique paint color palettes for your home in every room. Keep pace with the latest trends and styles in color. The only limit is your imagination. Let us help you create your dream home.
Choose the finish depending on which room you're painting. For example, semi-gloss is ideal for kitchens and bathrooms Flat finishes work best for other rooms, and will hide imperfections and withstand cleanings.
For walls, latex (water-based) paint is recommended for quick drying and reduced fumes. For high-traffic areas that will get a lot of contact (from hands, fingers, etc.) oil paints are much easier to clean.
Color decisions for residential interiors and exteriors painting mostly come down to personal preference and opinion, but here are some tips that we've seen over many years of painting houses in Paramus New Jersey.
When choosing a color, make sure it isn't too dark or too light before applying it. Only applying half-strength paint to try and remedy this is not recommended. Make good use of paint samples to try a variety of colors for your home's interior.
Contrary to some popular beliefs, ceilings do not have to be white, but lighter than the walls is usually better. If the walls are light to begin with, the same color can be applied on the ceiling.
Keep your décor decisions in mind when trying to tie in your paint colors to the room's overall look and feel.
Professional Painters for Caldwell Home Owners
If you would prefer to leave it to the professionals, contact us to benefit from our wealth of house painting experience. We are so confident in the quality and durability of our work that we have a 5 year Worry-Free Guarantee that covers any issues like cracking, chipping, peeling, or normal wear-and-tear damage. Most painting contractors only guarantee the labor for a short time, but we think home painting projects should last 5 years. That's why we include the labor and material cost in our Worry-Free Guarantee.
We will happily provide you with over 100 references, and you can read more testimonials here on our site. See why Worry Free Painting is the top choice for your home painting projects.
House Painting Services Area Around Caldwell NJ
We offer interior and exterior painting services in your neighborhood, we have teams in Essex, Bergen, Passaic County, doing residential and commercial painting jobs, and exterior and interior painting services.