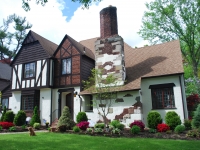 When working with a house painter, homeowners frequently have questions about the process of painting their house. We developed a detailed preparation and house painting procedure for a typical home. After 19 years of experience and after painting hundreds of homes, we believe our process will insure that your home will be painted on time, for the price quoted, and that your expectations will be met.
We understand your home is of great value to you; therefore, we make every effort to keep it clean and safe. All garbage and debris will be removed daily. We also leave wet "touch up" paint clearly marked as to where it was applied.
Below is a list of our most common services for homeowners. There are other services that we can provide. If you don't see what you need on our list – please contact us and we will give you our experience with your requested service and any other helpful information we have so you can make the best decision.
Exterior House Painting
Home Repainting Including All Clapboard and Shingle Siding
Coating All Masonry and Stucco with Elastomeric Coatings
Staining with Solid Color and Semi Transparent Stains
Restore siding with Wood Preserve
Aluminum Siding Refinishing
Deck Restoration
New Construction
House Painting – Interior and Exterior Preparation
Power Washing and Cleaning of Aluminum Siding, Brick and Masonry
Strip Paint from Your Clapboard Home Using Paint Shaver and OSHA Certified HEPA Vacuum
Carpentry Repairs
Concrete and Masonry Repairs
Window Glass Replacement and Glazing
Shutter Replacement
House Painting – Interior Painting and Wall Coverings
Existing Homes
New Construction
Staining and Varnishing New and Existing Woodwork
Door Refinishing
Installation of Fabric, Vinyl Wall Coverings
Dry Wall Repairs and Plastering
Waterproofing Coatings
Decorative Painting Including: Faux Finishing and Glazing and Venetian Plaster
Handyman Services